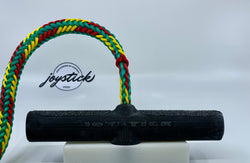 JOYSTICK WAKESURF ROPE 3.0
The SAFEST and Most INNOVATIVE Wakesurf Rope - Designed with integrated adjustable bungee bounce back technology and the safest grip available on the market today. For Surfers, by Surfers and hand made in the USA!
The Joystick Wakesurf Rope 3.0 is designed to gently bounce back to the boat easing the struggle of throwing or tossing the wakesurf rope. The extra-comfortable T-Handle design is easy to grip for a quick pop out of the water, but without the risky and unsafe triangular hoop that can tangle arms, fingers and hangs. Made from durable weather and UV resistant materials, Joystick ropes are made to last!
Adjustable Recoil - Adjust to your bounce preference 

Comfortable Silicone T-Handle Grip
Adjustable and Section Rope Length - Fine tune to your length
Durable Braided Rope
Weather Resistant and UV Resistant Materials
Available in an abundance of colors, choose the scheme that fits your style!